Introduction
Once Thanksgiving ends, people bust out their Santa hats and Christmas lights. In America, Christmas is the World Cup of holidays. Every store is draped in red and green with "holiday special!" signs everywhere you turn. Retailers lick their chops as seas of people bombard the aisles, fill their carts, and swipe their credit cards.
Christmas is contiguous—the snow, the lights, the songs, the movies—you can't escape it. So, since Christmas is embedded in American culture, why do so many people not know how it became popular throughout the country? I don't know the answer, but I will provide you with the origin story so you can impress folks around your Christmas table this year.
Washington Irving was the catalyst
Washington Irving was a short-story writer, and essayist. His collection, The Sketchbook of Geoffrey Crayon, Gent. first introduced Americans to Christmas. Written in 1819, the collection contained several essays and short stories, including the classic, Sleepy Hollow. But the essays Christmas, Christmas Eve, Christmas Day, and The Christmas Dinner, are overlooked. Biographer Brian Jay Jones writes
"While a number of other stories in the Sketch Book were better known, none would have a greater impact on American culture than these four Christmas essays."
In 1815 Irving traveled to England and he would stay abroad until 1832. During his time in England, Irving would become a huge fan of old English Christmases. He enjoyed the dinners, dancing, singing, crackling of the fires, festive decorations, and the cheerful spirit in the air. He writes:
Amidst the general call to happiness, the bustle of the spirits, and stir of the affections, which prevail at this period," he asked, "what bosom can remain insensible?"
Back in the homeland, America, his stories connected with the public. Mostly because they invited people to embrace their own version of Christmas. He revived the holiday that had been looked frowned upon in parts of the country for the fighting and drinking it sparked.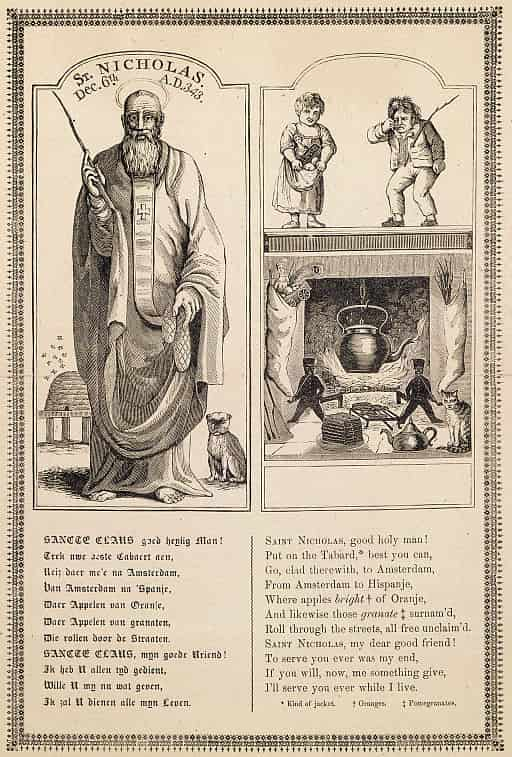 Irving's biggest contribution to Christmas was his promotion of St. Nicholas
In one of his stories, Irving wrote about a shipwreck of a Dutch scouting party in Manhattan, where one of its members receives a vision in which "good St. Nicholas came riding over the tops of trees, in that self-same wagon wherein he brings his yearly presents to children." This would get the ball rolling on the future of the household character, Santa Claus.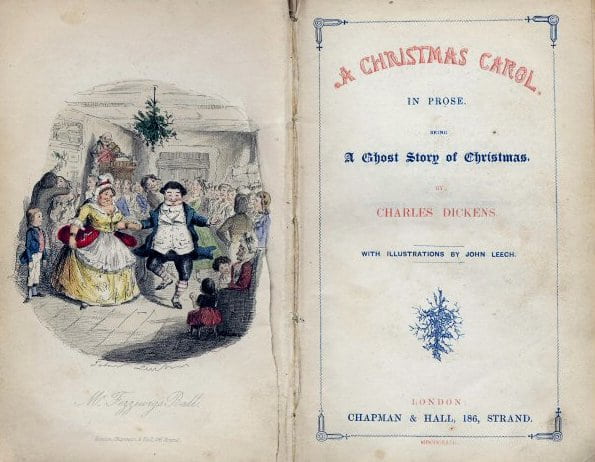 A Christmas Carol by Charles Dickens was inspired by Irving
Charles Dickens was just eight years old when The Sketchbook of Geoffrey Crayon, Gent. was published. However, twenty years later he would write a letter to Irving admiring his work. In 1841 he writes to Dickens "I wish to travel with you..down to Bracebridge Hall." (One of the scenes from his Christmas essays)" The trip never happened but two years later in 1843, Charles Dickens would publish the famous A Christmas Carol. Considering Dickens wrote fan mail to Irving it is safe to say the essays were inspiring to him.
Conclusion
Now you know a little bit about how Christmas became widely popular in the United States. Now you can proudly wear your onesie, stuff your face, and flex your American history knowledge this Christmas.
Sources
1. Bradley, Elizabeth. "Dickens and Irving: A Tale of Two Christmas Tales." Historic Hudson Valley, 22 May 2018.
2."The Sketch Book of Geoffrey Crayon, Gent." The Sketch Book of Geoffrey Crayon, Gent. by Washington Irving.
3. Heitman, Danny, et al. "How Washington Irving Shaped Christmas in America." The National Endowment for the Humanities.