sent: April 10 | Issue #11
1. Quote 1. Reflection 1. Question
1. Quote
"The successful among us delay gratification. The successful among us bargain with the future."

From: Jordan B. Peterson
Source: 12 Rules for Life: An Antidote to Chaos
1 Reflection.
Delayed gratification is what separates humans from virtually all other species. We are the only ones that can conceptualize the future and know that it exists. 
This has served us well for thousands of years, but we still struggle with sacrificing now for the sake of the future. Here are some things that I struggle with that I'm sure you can relate to. 
I struggle to put my phone down at night even though I know sleep is important. 
I struggle to say no to trying that new restaurant even though I know I need to save to pay off my credit card or student loan.
I struggle to wrap up the tortilla chips and salsa even though I want to save some for tomorrow.
I struggle to sit down and work on certain projects even though I know it would benefit me in the future. 
Maybe you can relate, and see that delayed gratification is not easy. But, if you can control this superpower it will pay big dividends later. The best example of this is in the financial world.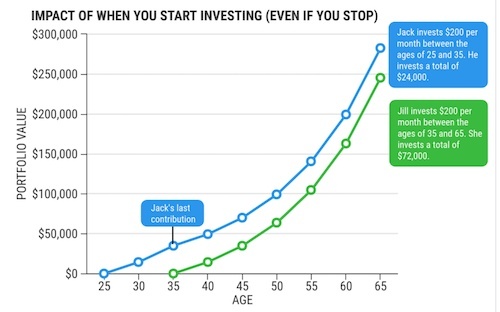 Source: U.S. News Report
The moral of the story from this graph is to get started early. The evidence is there for personal finance but this goes for everything we discuss on the website from career development to mental health. Practical examples include:
You can obtain certifications and degrees now to get a higher salary in the future. 
You can put money into an IRA or invest it to get more money in the future.
You can delay angry or frustrated reactions for the sake of a strong relationship in the future.
You can delay going through Mcdonald's for the home-cooked meal in the future. 
This is the secret sauce, delay now to dominate later. The best part is that with time and practice it will get easier because sacrifice creates strength.
1 Question.
What can you delay this week to put you ahead next week?
---
ABOUT THE NEWSLETTER
---
The 1-Step Forward Newsletter is a weekly Sunday newsletter.
Each issue contains 1 Quote, 1 Reflection, and 1 Question each meant to guide you on the next step forward in your life towards improvement.